84000 Journeys into the Future

June 2022
Above: Scene from the March 2009 conference, "Translating the Words of the Buddha."
Khyentse Foundation's first 'child' was born in the Land of the Buddha
When Dzongsar Khyentse Rinpoche first expressed the need for the complete words of the Buddha to be translated into modern languages, Khyentse Foundation took the lead by  hosting a historic conference in March 2009 at Deer Park Institute, India.
More than 50 leading Tibetan Buddhist teachers, translators, academics, and patrons gathered to discuss the Tibetan Buddhist canon—the Kangyur and Tengyur. They realized that 95% of the canon existed only in Classical Tibetan, preventing direct access for most people to over 230,000 pages of source texts and therefore inhibiting the study and exploration of the words of the Buddha.
Participants recognized that future engagement with this collection—the root from which all Himalayan Buddhist traditions originate—was in danger. Out of that conference 84000 was conceived with the mandate to make one of the world's largest archives of wisdom freely and easily accessible for this and all succeeding generations. And so Khyentse Foundation's first "child" was born in the Land of the Buddha, launching a project to benefit all Buddhists and all sentient beings.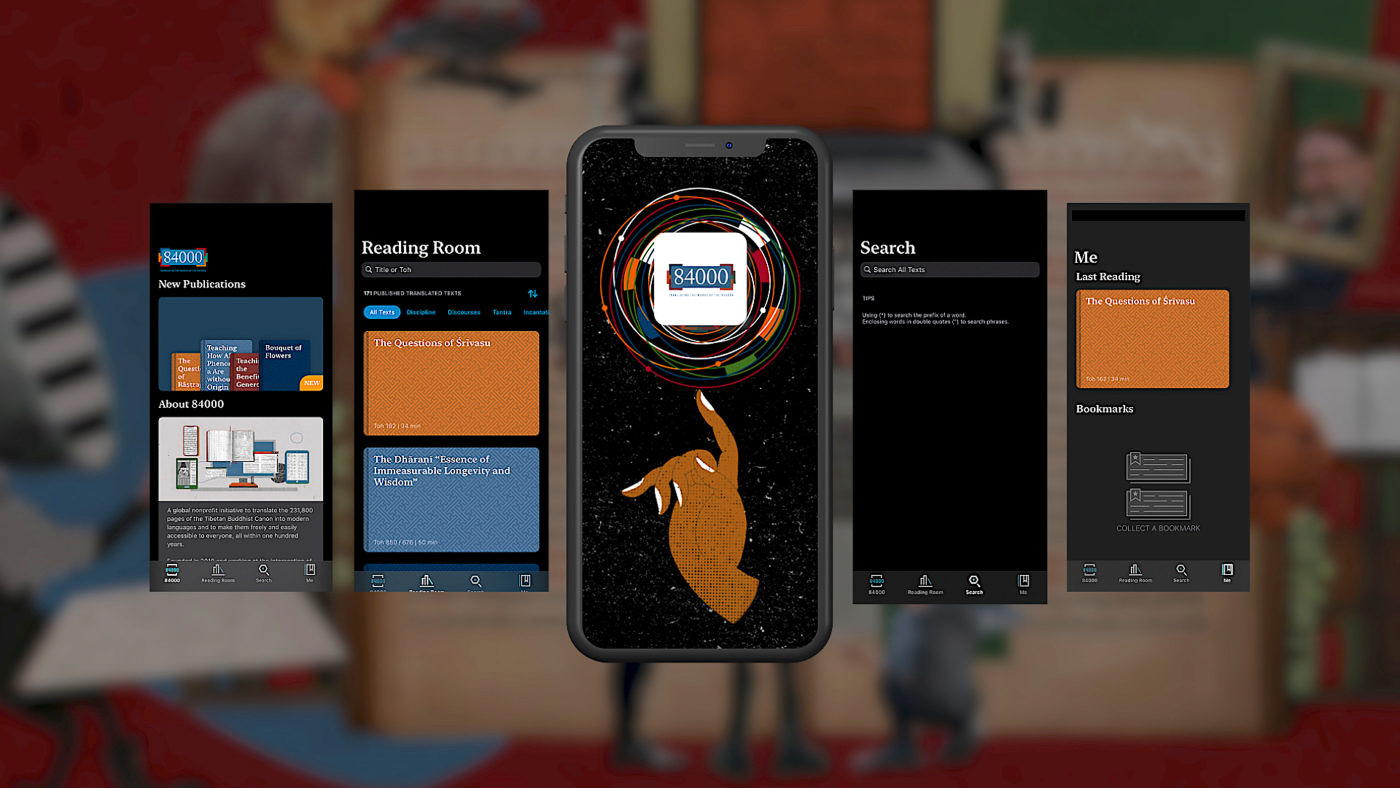 Above : 84000 mobile app image
Today, 84000 goes above and beyond simply making canonical texts freely available in English.
While our 100-year vision is to translate the words of the Buddha into modern languages [starting with English] and to make them freely available to the world, 84000's work is really to ensure that as Buddhism spreads, as intermediaries and interpretations multiply, future generations are empowered with direct access to the Buddha's wisdom for their own consultative study and practice. We go above and beyond simply making canonical texts freely available in English: we provide practitioners, scholars, and readers interactive tools and resources to further their engagement and understanding of the Canon's contents and teachings.
84000's core work includes the following areas.
Scholarly research • As translations are commissioned, our editorial team engages in in-depth research on each of the thousands of canonical texts that comprise the Tibetan Kangyur, providing necessary socio-historical context, highlighting hitherto unrecognized insights, and creating greater understanding of meaning so that our publications are as authentic and dependable as possible. In line with international academic standards, our in-house editorial processes and review policies help to ensure the quality and readability of published texts; to present balanced interpretations of difficult terms and expressions; and to preserve a coherent and accurate version of the canon in today's world.
Specialized translation • Many of the texts in this canon no longer exist in any language other than in Classical Tibetan. In its first 10 years, 84000 awarded US$7.8M in grants,  catalyzing teams of translators and specialists who rendered tens of thousands of pages of wisdom into English for students, practitioners, and readers like you. Now, our in-house associate translators—supplemented by grant-based translation teams and fellows—ensure the consistent and prolific translation output that is necessary for us to allow for advice and feedback from masters of the living tradition today, as well as to preserve a foundation for reinvigorating canonical Buddhist scholarship in the future. Over 17,800 pages are now available in English, many for the first time in history.
Open access technology • As we aspire to provide readers with easy and intuitive access to this timeless collection of wisdom, we do not simply publish translations as standalone texts. Many canonical texts are interrelated in various ways: some may share an interlocutor or a protagonist, some may be evolutions of particular themes or teachings, Tengyur texts may quote Kangyur texts, or those to whom they are attributed may have been responsible for other commentaries as well. Working with technology we develop new ways in which these texts are translated, linked, read, studied, and disseminated. We are constantly innovating our comprehension tools such as building thematic filters, expanding glossaries, developing systems to recognize inter-textual linkages, and enhancing our e-Kangyur view options. Our mobile app for iOS and Android provides a dynamic format for the collection to be read on-the-go with personal annotation, and our online Tengyur catalog, with titles in English, Sanskrit, and Tibetan, is a global first.
The participation of the worldwide Dharma community is an integral part of 84000's vision
 Above: A glimpse from an 84000 Sūtra Resounding. Image credit Connie Moffit.
84000 is on its way to becoming a credible source of learning, knowledge, and inspiration for anyone curious about the roots of Buddhist traditions and wanting to explore the raw material of the Buddha's teachings.
With a dedicated team, generous support, and strategic stewardship, 84000 is on track to complete the translation and publication of the 1,100 texts of the Kangyur by the year 2035. This will represent the first time in history that the entire collection of sūtras from the Tibetan Buddhist canon is available in English and we cannot wait to see what future generations will be able to do with the wisdom therein unlocked. 
The participation of the worldwide Dharma community is an integral part of 84000's vision whose support is both necessary and invaluable: we hope to work more closely with as many of these communities as possible in order to make the canonical texts more approachable for study and practice.
At the same time, we are beginning to experiment with pilot translations of Tengyur texts, which often require their own set of unique skills and experience in order to fulfill our vision of offering to the world the entire Tibetan Buddhist canon in English by the year 2110. To this end, we are focusing efforts on building a sustainable working model that will allow the project to thrive over the next 90 years. This includes transitioning from a grants-based translation model to one that allows us to develop a strong, core team of in-house associate translators and research editors who are both highly skilled in translation and very knowledgeable, with complementary domains of expertise.
This also includes nurturing and empowering the next generation of translators and scholars of Buddhist texts, with a view not only to ensure a steady stream of translators in the future, but also to help strengthen the academic study of the Kangyur and Tengyur globally. Having recently made available grant opportunities for postdoctoral fellows, and established partnerships with two major universities in North America, we seek to continue establishing more such meaningful partnerships with academic institutions. These partnerships may also involve the development of course readers that will enable professors and students to use our growing online collection of translated texts—many of which represent the only English translation of Kangyur texts—as a resource for study and research.