Amelia Chow reflects on her long history of service for Dzongsar Khyentse Rinpoche's sangha before she enters a long retreat. As a founder of both Siddhartha's Intent and Khyentse Foundation, and balancing being an active volunteer in both, her reflections on the past and aspirations can ground and inspire all of us as we create plans for the future.
KF: What is the most important thing you'd like the Khyentse sangha to know and remember?
Amelia Chow: I would like everyone to know how each part of the Khyentse mandala is different, and how these different parts work together.
The biggest difference between Siddhartha's Intent and Khyentse Foundation is that KF's command chain is top down (all projects are initiated by Rinpoche), whereas SI is bottom up. Rinpoche will go where there are enough students coming together to invite him to teach. With Rinpoche's permission, students in each country create an independent, self-arising local SI society in accordance with the country's legal requirements.
SI is supposed to be low key; our directive from Rinpoche is, "People who want to learn dharma, who want to follow me, need to seek us out. We don't chase after them." Our other key directive is that "the teachings should have no strings attached."
KF's role is to inspire and attract support in order to carry out Rinpoche's vision to support the study and practice of buddhadharma all over the world. The two roles are very much related, but separate.
KF: How do you think KF and SI could work even better together?
AC: With a clear understanding of the vision and mission of the two organizations, people should know that they can wear two hats. I have been in that dual position, I think, the longest. I met Rinpoche in 1990, quit my career in 1991, and moved to Vancouver. In 1992, we created SI Canada in order to purchase the land to build the retreat center [Sea to Sky Retreat Centre]. I have been working for SI since then. And in 2000, I was one of the founders of KF.
KF started because of the need for monastic support. Rinpoche was so busy getting support for all these monasteries that he is responsible for. A group of devoted students wanted to help carry that burden so that he could concentrate on his retreats, teachings, and movies.
Monastic support was the starting point. I was the main person working on this following Rinpoche's directive to bring the monasteries into the 21st century. When we started, the monasteries didn't have the word "budget" in their vocabulary. They would have a bag of cash, and when it was getting to the bottom, they would inform Rinpoche, "we are running out of money." They had no idea how they spent it, and had no idea how much they would need in the next year. Somehow, Rinpoche thought an investment banker like me would know how to deal with these things.
It was a huge challenge. From the inauguration of the DKCLI in 2004, I have been going there twice a year, for a few months at a time. We established a health clinic, English classes, computer classes, as well as accounts reporting and a budgeting process. A few years ago, I also started going to Dzongsar Tibet.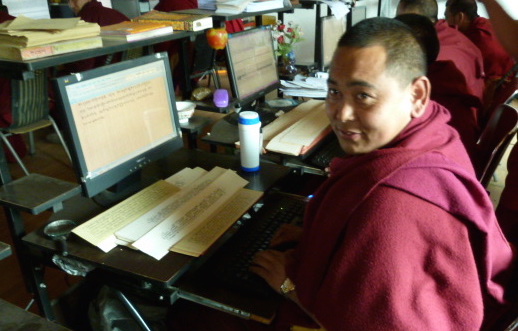 Monk at Dzongsar Tibet inputs texts.
KF: What helped the khenpos realize that they needed to step into the modern era?
AC: It took many years. Old habits are really tough to crack, so it was a gradual path, slowly, slowly. The khenpos needed to understand that they have to change in order to survive. The good thing about the khenpos is that they are intellectually curious, and they are good learners.
KF: Why do you think that Rinpoche wants SI to be less structured than KF?
AC: If you look at the SI mandate—the vision and mission—we are here to support Rinpoche's teaching activities, and the study and practice of the sangha. People working in SI are doing all this work as an offering in appreciation of the teachings we receive from the guru. He never tells us that we should do this or that. For example, when we said we wanted to start archiving his teachings, he actually said, "What is there to archive?" But he turned around and hijacked our archivist to work on his teachers' teachings!
As I mentioned, each SI is a locally incorporated entity. In that sense, it is structured. However, there is no central point to tie all of them together. Over the years, it was with a lot of effort by a few people—the unsung heroes—to coordinate these programs that cover cross-border SI chapters: Practice programs such as Dharma Gar and Ngöndro Gar. Archiving and distributing recorded teachings. Transcribing and translating, and making subtitles for video teachings. Live streaming of teachings, when internet is available.
These are all essential components to support and promote study and practice in our sangha. They are all done by a small group of volunteers, who offer their talents and time consistently, year after year. This is the spirit of generosity I want to see continued in SI and KF. Perhaps Rinpoche is leaving SI less structured because he wants us to keep this "self-arising" tradition?
KF: What are your aspirations for SI and KF for the next 10 years?
AC: We need to keep agile and shift our focus in a way that is sensitive to Rinpoche's direction. For example, there was a time when Rinpoche didn't like the idea of having too many SIs. He said, "Oh, it's looking like a franchise, like Starbucks." Now we have many SIs, and he says, "Quality comes out of quantity." It is now an urgent mission to increase the number of Buddhists in the world. Recently we have new SIs in Mexico and Brazil, and the latest is in Colombia! I hope Rinpoche will consider appointing an international team to help get them established.
For KF, I really hope it will stay small, small is beautiful. Projects can be perfected in a boutique way rather than like a department store. For KF, I really hope it will stay small, small is beautiful. Projects can be perfected in a boutique way rather than like a department store. SaveSaveFor KF, I really hope it will stay small, small is beautiful. Projects can be perfected in a boutique way rather than like a department store. For KF, I really hope it will stay small, small is beautiful. Projects can be perfected in a boutique way rather than like a department store. SaveSave
SaveSave
SaveSave
SaveSave
SaveSave
SaveSave
SaveSave