FOCUS 
January 2022  |  CNY Edition
Welcome the spring with an auspicious sutra recitation
In this Chinese New Year special issue, Khyentse Foundation presents the newly completed Chinese translation of The Sūtra on Dependent Arising, recently translated from Tibetan into Chinese by the Kumarajiva Project. You will also find Rinpoche's Chinese New Year greeting, with his recommendation to recite the Dependent Arising Dharani and sutras, as well as call for ideas as how best to introduce the concept of dependent arising to young children.
In The Sūtra on Dependent Arising, Buddha teaches several ways in which one can use the text to accumulate merit. These include contemplating dependent arising, making copies of the The Sūtra on Dependent Arising, or building a stupa into which one places the Dependant Arising Dharani inside.
OM YE DHARMĀ HETU-PRABHAVĀ HETUM TESHĀM TATHAGATO HYAVADAT TESHĀM CHA YO NIRODHA EVAM VĀDI MAHĀSHRAMANAH SVĀHĀ 
All these phenomena have arisen from causes and Tathagata himself has spoken of the causes. The great Recluse the Buddha has also spoken of the cessation of the causes.
(The Dependant Arising Dharani, Sanskrit to English translation by the late Raji Ramanan, former KF Board member.)
Dzongsar Khyentse Rinpoche encourages the recitation of the Dependent Arising Dharani during the new year with the aspiration "to be healthy, wealthy, and happy so that we can make others healthy, wealthy, and happy."
February 15, 2022, is the full moon day of the first month according to the Chinese Lunar Calendar, which marks the final day of the Chinese New Year celebration, also known as the Lantern Festival. On that day, the Kumarajiva Project and Siddhartha's Intent India will jointly make 20,000 butter lamp offerings at the Mahabodhi Temple in Bodhgaya (subject to COVID regulations) on behalf of all those who have recited the Dependent Arising Dharani or any other of the Kumarajiva Project translated sutras in any language.
There are two online group recitations (Chinese only) on January 31 night and February 1. Click here to join. We also encourage you to recite the Dharani and the Sutras on your own as much as possible during this period.
Click to download The Sūtra on Dependent Arising (in Chinese)
Click to download The Sūtra on Dependent Arising (in English by 84000)
Click to download additional sutras in Chinese by the Kumarajiva Project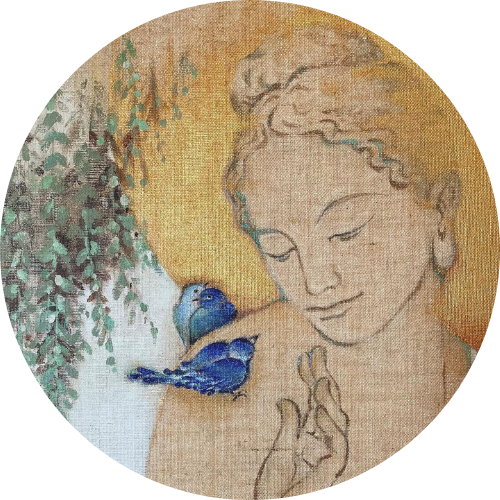 Introducing "Dependent Arising" to children
Many busy parents are looking forward to spending time with their children during the Chinese New Year Holiday. We would like to take the opportunity of the official launch of The Sūtra on Dependent Arising to invite you to share with us how adults can talk about Dependent Arising with our children, either in the form of pictures or videos. You are welcome to submit your ideas to [email protected]. Your creative ideas will be shared on Khyentse Foundation social media and the Kumarajiva Project website. For more information, please visit our website.
Images: Tiger,  Woman and bird illustrations by Yachi Tseng; "How to build a stupa" from the Kumarajiva Project website
Online Lectures by the Kumarajiva Project
February 11, Introduction to The Sūtra on Dependent Arising by Professor Han,Tzu-Feng. In Chinese, no English translation.
We are honoured to have Professor Han,Tzu-Feng, long-time practitioner and scholar of Chinese and Tibetan Buddhism, give us a guided reading and explanation of the sutra. For more information, please click here.
February 25, Translating the sutras: trials, tribulations, and pleasures by Professor Peter Skilling. In English with Chinese translation. Click to register.
The Kumarajiva Project is honoured to have Prof. Peter Skilling, the internationally renowned scholar of Sanskrit, Pali, and Tibetan Buddhist texts, share his journey of translating 25 Tibetan Buddhist sutras into English and compiling them into his new book, Questioning the Buddha.
"This volume, prose and verse join beautifully to celebrate the Dharma. The selections show how rich, how diverse, and how wonderful the Kangyur is – and how little we know about it." (Excerpts from Dzongsar Khyentse Rinpoche's preface for the book)
IN OTHER NEWS
Application for Khyentse Foundation Translation Studies Scholarships opens from February 1 to March 1.
Khyentse Foundation Ashoka Grant applications ends on February 15.
Triratna Anusmriti Sadhana New Schedule and Chinese Practice
Triratna Anusmriti Sadhana team will officially starts Chinese/Sanskrit bi-weekly practice starting from February 13 on Sunday 8:30am IST. The original English/Sanskrit practice will happen bi-weekly on Friday 7:00pm IST. Join the practice here. 
SI-India new Tara Practice schedule 
SI India is now offering online Tara Practice on every other Sunday at 9:30am IST. The next practice date is on February 6, 2022. Check out the Tara practice dates from all SI regions.
Green Tara Sadhana in Russian is available to download.