From TBRC to BDRC: 
A Brand New Buddhist Digital Library for All
In this issue of KF Focus, we invite Jann Ronis, executive director of the Buddhist Digital Resource Center (BDRC), KF's long-term partner in the preservation of Buddhist texts, to share the exciting news about their new multilanguage website. 
Image: Jann at Peter Skilling's Fragile Palm Leaves Foundation library in Bangkok, in spring 2019
Sanskrit, Chinese, Tibetan, Pali, Burmese, Khmer, Newari Texts
– All in One Place
BDRC Launches a New Website

 
By Jann Ronis
Khyentse Foundation and BDRC have been partners for almost two decades. The heart connection between our two founders was established nearly 50 years ago. E. Gene Smith (1936-2010), the founder of Tibetan Buddhist Resource Center (TBRC), lived in New Delhi from 1965-1985. For much of that time, Gene's palatial residence was a second home for Dilgo Khyentse Rinpoche and his retinue, which of course included Dzongsar Khyentse Rinpoche. Rinpoche has often recounted his fond childhood memories of Gene's home. 
Image: Gene Smith (photo copyright © Digital Dharma Documentary)
Years later, soon after founding KF in 2001, Dzongsar Khyentse Rinpoche provided crucial funding for TBRC, the predecessor of BDRC. Just as essential was the leadership support volunteered by Cangioli Che in her role as a board member of TBRC/BDRC for more than a decade. One of Khyentse Foundation's lasting contributions to Gene Smith's organization was its encouragement to expand the mission to include all canonical traditions of Buddhism. In 2015 Tibetan Buddhist Resource Center changed its name to Buddhist Digital Resource Center and began to apply its successful approach to digital preservation and accessibility to Buddhist traditions outside of the Tibetan cultural realm. With a generous grant from KF, BDRC's inaugural project was the digitization of the Fragile Palm Leaves Foundation library of Southeast Asian manuscripts collected by Professor Peter Skilling, an outstanding scholar, KF Fellow, and KF advisory board member.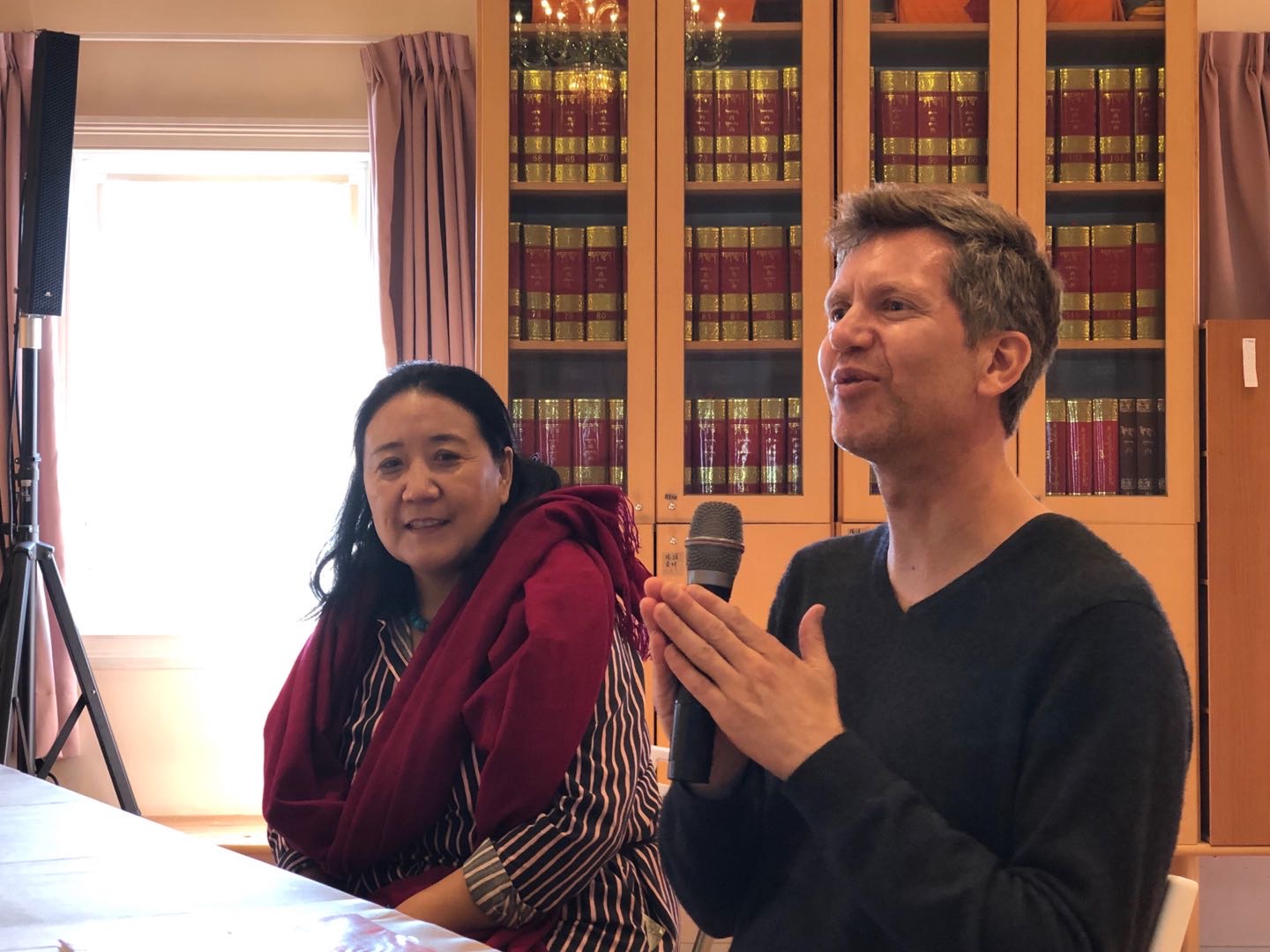 Image: Jann at a nunnery in Canada, sitting next to him is BDRC's senior librarian Kelsang Lhamo, the longest serving employee at BDRC.
Now BDRC is set to launch its new website. This website fulfils BDRC's founding vision, to preserve all endangered traditions of the Buddhadharma and to create a digital resource that serves Buddhists who practice all three vehicles, or yanas. This brief article introduces some of the key features of the new website, including advanced tools for searching and viewing Buddhist texts, as well as an enlarged collection of works in Sanskrit, Chinese, Pali, and Tibetan.
Sneak peak of the new website:
IMAGES LEFT TO RIGHT: TOP ROW: LEFT: The home page of the new website. CENTER: The user interface. This is the record for the Chimé Pakmé Nyingtik, "The Heart Essence of the Sublime Lady of Immortality," a terma by Jamyang Khyentsé Wangpo that is still central to the Khyentse tradition. RIGHT: The new image viewer for reading and downloading scriptures in BDRC's expertly catalogued library of more than 17 million pages of Tibetan texts. BOTTOM ROW: LEFT: The e-text viewer, which pairs images of Tibetan texts with their corresponding Unicode text, page by page. Most of the e-text was generated through an innovative use of Google's optical character recognition (OCR) engine, which is very accurate for Tibetan scripts. RIGHT: The image viewer with a Sanskrit text. The images of this gorgeous manuscript are housed on the servers of the British Library, but through a data-sharing agreement we have fully integrated the images and metadata into our online resource. BDRC's new website is designed to make possible extensive two-way data sharing in order to amplify the dharma treasures located in libraries and museums around the world.
With the launch of the new website, BDRC instantly becomes one of the foremost digital libraries of Southeast Asian Buddhist texts as well. Just as Gene Smith made it his mission to preserve the at-risk texts of the Tibetan tradition, BDRC's current digitization priorities are to preserve texts in Southeast Asia that are in danger of damage due to poor storage conditions, neglect, and social disruption. To this end we recently began an ambitious project in Cambodia to digitize palm leaf manuscripts held in rural monasteries that survived the tumultuous twentieth century. Filling in the gaps of other preservation efforts in Cambodia, BDRC has so far digitized more than 320,000 folia of manuscripts in that country. These texts in the Khmer script include numerous Pali works as well as thousands of rare texts of the Cambodian Buddhist tradition. The Khmer collection complements the more than 2.1 million folia of Burmese texts digitized by BDRC at the Fragile Palm Leaves archive, which are available on the new website.
IMAGE: This work is called Paṭham trās' and was traditionally one of the two most common sermon texts on the life of the Buddha in Cambodia. The palm leaf manuscript is from Wat Phum Thmei in Kampong Cham province, the largest surviving rural manuscript library in Cambodia.
The website is currently in a public beta release and is accessible here for your preview. All the features described in this article are already live online and are being constantly updated in response to increased use by early adopters. The new site will have its hard launch on August 1. The legacy TBRC site, will remain active for many more months so that our users have enough time to become comfortable with the new system and interface.
The new website is the result of more than 3 years of work by a team of practitioner-technicians assembled by BDRC. Zhejiang University's Buddhist Research and Resource Center, directed by Professor He Huanhuan, partnered with BDRC for much of this work. The goal of these efforts has been to completely rebuild BDRC's online library into a platform for a vast and curated collection of Buddhist sutras in Sanskrit, Chinese, Pali, and Tibetan. 
We've been working behind the scenes to build an entirely new website and expand our online offerings through major digitization projects and partnerships with many digital collections that specialize in any of several traditions. This work was funded by The Robert H.N. Ho Family Foundation with a grant aptly titled the "Sanskrit Chinese Buddhist Library Network." 
BDRC's new website retains the best features of our current website (such as BDRC's outlines), while also offering users a variety of new tools that facilitate research and promote deep engagement with Buddhist texts. In particular, long-time users will notice significant improvements to BDRC's image viewer and e-text viewer. BDRC's new image viewer offers a superior reading experience through continuous scrolling and full-width display of our tens of thousands of manuscripts and books. The new image viewer also provides simple image manipulation tools, allowing the adjustment of settings such as contrast, saturation, and brightness. Additionally, BDRC has developed a second viewer that enhances access to our collection of e-texts. With the viewer, users can scroll through Unicode texts in our database and simultaneously view corresponding scans when images are available. The new BDRC library website also makes these e-texts available for free download.
The new website will also delight users with its hugely expanded library of texts, which offers open access to Buddhist canonical and vernacular works in a panoply of Asian languages including Sanskrit, Chinese, Pali, and Tibetan, as well as Burmese, Khmer, and Newari, among others. The Sanskrit texts now available on BDRC come from a variety of sources, including original scans of several hundred manuscripts made by BDRC in Nepal and many works from the Cambridge University Library and the Royal Asiatic Society. The Taisho Edition of the Chinese canon is made available for viewing on BDRC thanks to a data-sharing agreement with the SAT Daizōkyō Text Database. Most of these Sanskrit and Chinese texts are fully linked to the BDRC database of the Kangyur and Tengyur canons, making it possible for the first time to explore scans of dozens of sutras and shastras in multiple languages in a single website.
From users of the new website
"BDRC's new state-of-the-art platform provides Tibetan readers and the wider Buddhist world of practitioners and scholars with access to tens of thousands of texts in Chinese, Pali, Sanskrit, Tibetan, and more. To engage it for the first time is to realize that we are in a new era of possibility for Buddhist studies. The promise for digital humanities research and conversations across linguistic and disciplinary thresholds is breathtaking. Federated searches allow users to explore and access even digital assets preserved at other libraries and museums. With technological vision and elegance, BDRC has leveraged its own vast archive of digitally preserved texts and ever-expanding corpus of searchable e-texts to provide us all with a platform ripe for collaboration."
                                                                      – Lauren Hartley, Ph.D., Tibetan Studies Librarian, C.V. Starr East Asian Library. Lauran is also a BDRC board member.
"As a student focusing on translation and interpretation of traditional Buddhist texts, BDRC is one of my closest friends and colleagues. Any time I want to find out a complete verse from one or two Tibetan words, or source a fragment from its original text, or compare different versions of a text, I just ask for BDRC's help. Therefore, I am very excited to know that BDRC is going to launch its new website with various improved features."
                                     – Laurence Zhou, MA student in Translation,  Textual Interpretation and Philology of Rangjung Yeshe Institute Nepal. Laurence is also a KF grant recipient.
Recognizing Excellence
KF Announces 2020 Outstanding Translation Prize and Dissertation Award

 
KF is delighted to announce that its 2020 Outstanding Translation Prize goes to Professor Richard Salomon's translation of The Buddhist literature of Ancient Gandhāra: An Introduction with Selected Translations. The 2020 Outstanding PhD Dissertation Award is shared by Mingyuan Gao and Su-an Lin for Gao's The Buddhist Concept of Vāsanā: From Abhidharma to Early Yogācāra and Lin's Dependent-Arising, Two Truths and Logic in Bhāviveka's Philosophy.
Professor Steven Goodman's book on abhidharma to be published in July
The Buddhist Psychology of Awakening: An In-Depth Guide to Abhidharma, by long-time KF advisor and member of the KF Academic Committee Steven Goodman, will be published in July by Shambala Publications. Professor Goodman explains how the abhidharma can be applied to meditation practice through exercises of observation and reflection, making this the go-to manual for anyone interested in understanding how the mind really works.  Professor Goodman talks about the book. 
KF Scholarships application window opens
The application window is open for Buddhist Study Scholarships, Individual Practice Grants, Work as Practice, and PHD scholarships from June 15 through July 15, 2020. For details, visit the application page.