THE MIDDLE WAY:

KF Invests in Education for Children
Thinking broadly, if a kid grows up in a situation where there is information on Buddha, dharma and sangha—that is already a success. Looking at the larger world, most schools don't talk about these things. And especially Buddha, dharma, and sangha, bodhicitta, dependent arising. So in that context, we will consider ourselves quite successful even doing just that. "
Dzongsar Khyentse Rinpoche has long aspired to create a model of Buddhist education for children. In 2018, Khyentse Foundation launched Middle Way Education, which in turn opened the Middle Way School (MWS), as the foundation's major effort in education for children. In this issue of the KF Focus, we invited Noa Jones, executive director of Middle Way Education and creative director of MWS, to tell us about the school and how it is fulfilling Rinpoche's wish for a Buddhist school for children. This issue also features a video in which MWS parents express what the school means to them, and an exciting update on Blue Lion Preschool, another education initiative in Singapore also guided by Rinpoche.
The Middle Way School of the Hudson Valley
Timeless Methods for a Modern World
By Noa Jones
The origin story of the Middle Way School spans three continents and two decades, it's colorful, dramatic, and truly awe inspiring. Flashing back, I see Rinpoche giving his blessing on a hilltop in a swirling mist near the cave of Maratika in Nepal, I see a boardroom in Bali with architects and educators surrounding Rinpoche making big decisions. Then cut to a chance encounter in the Mexico City airport. Rinpoche is standing in the terminal with his carry-on bag asking, "What's happening in Woodstock?" 
That was late October, 2017. A few days later Rinpoche informed Sarah Mist and me that Upstate New York was the ideal place to launch a Buddhist school for children. All the preparation that had gone into trying to start a school in Bali and India, and the Siddhartha School in Australia, was now funneled into this new idea. All those who had ventured to carry out Rinpoche's wish for Buddhist education for children had laid a foundation upon which Middle Way could build. There is no question that a concentration of blessings was poured onto this foundation, because there is no other explanation for the success we have seen. It was beyond rational thinking that we could get a school up and running in just 9 months—finding and securing a location, hiring teachers, defining our vision and mission, developing our branding and marketing, selecting curriculum materials, procuring a license from the state of New York, not to mention finding families to give us their children for this grand experiment.
On September 6, 2018, the Middle Way School of the Hudson Valley opened with 17 lucky students, 2 teachers, and 3 classrooms on a campus of 5 beautiful acres. The focus of the first year was slowing down the velocity that had gotten us launched, creating a safe, uplifting learning environment, and settling into our space. It was an extraordinary year. By the beginning of the current 2019-2020 school year, we had learned so much, earned the trust of our founding families, and attracted many more. With 29 students and an expanded staff, we were ready to start tackling our bigger mission: to research and develop a model of education that can be used to open new schools or redefine existing schools around the world.
What Is a Middle Way Education?
We have been drawing from the patterns of formal Buddhist study and practice to create a collection of thematic units. The teachers take the themes and weave them into a strong academic program that is in line with the common core standards of public schools in the United States.  For example, we begin the year with the "Taking Your Seat" unit, in which we get comfortable, set our intentions, create our boundaries, and take a few deep breaths. In doing so, we help the children arrive, just like when we arrive on our own cushions. From there we can move on to explore subjects like Lineage, Refuge, Bodhicitta, Cause and Effect, Dependent Origination, Impermanence, Harmony, and so on. 
Of course, how refuge looks for a 6-year old at Middle Way is very different from a practitioner's Buddhist refuge. Everything we do deeply considers the developmental stage of the child. We don't ask the children to do or say anything devotional until they can make a reasoned, conscious choice. Until they're ready to take that important step, students are presented with aspects of refuge that are age appropriate and engaging. So instead of sending them to the floor in prostration, we ask them to talk about what makes us feel safe, build shelters in the woods, study birds' nests, and learn how to tie knots. Students learn how and who to ask for help, how to speak clearly about their needs, and how to choose the right sources of refuge. Most importantly, they learn that they have an inner refuge that is always with them: their own stable mind. "I have a sky inside of me" they sing. (You can hear the song here.)
Perhaps in the higher grades, we will talk about refugee crises and immigration, and how we can become refuges for others. Maybe they will build more complex structures, refining their sense of inner order, so that after a few years they have a deeply felt sense of what refuge means. In the meantime, when visiting lamas come, they can explain that they take refuge in the dharma, and that will make sense to the children.

The themes show up in all kinds of creative ways in the classrooms. Circuitry relates to interconnection, studying the Hudson River relates to lineage, weather relates to bodhicitta. And these are all woven through with math, literacy, social studies, and science. Students also enjoy one specialty class per day: Music, Sanskrit, Parkour/Aikido (depending on season), Dharma Art, and Outdoor Education. 
Lama Visits
Receiving special guests is a key part of the school functions. The school has been blessed by visits from Jetsunma Kunga Trinley Palter Sakya, Jigme Khyentse Rinpoche, Drubgyud Tenzin Rinpoche, Bhaka Tulku Rinpoche, Jampel Dorje Rinpoche, Khedrup Rinpoche, Khenpo Choying Dorjee, and many other khenpos abbots, scholars, and esteemed guests. The monks from Karma Triyana Dharmachakra (KTD), HH Karmapa's North American seat in Woodstock have come several times to support our Losar celebration, solstice, and a worm release. The students have learned how to pay respects, and although they may not totally comprehend, they have received many blessings, as has the ground of the school.

When Bhaka Tulku Rinpoche visited MWS last spring, he did a spontaneous Riwo Sangcho puja in the playground. Some children played tag in the smoke and some stood to watch, others helped sprinkle grains into the fire, then went back to tag. When we returned in the fall we were delighted to see a perfect circle of corn growing in the exact spot of the puja. There are many magical moments like this at the school.
Parents
Magic is a word that many of the parents use to describe Middle Way. "I have been blown way with how engaged the families are," says Grace Louis, whom we were lucky to hire as head of the school in January 2020. "I've worked for 20 years at independent schools and I've never seen anything like this." Parents in this community have fewer income opportunities than they would in larger cities; the Hudson Valley is not an economically robust area, particularly for young families. There are only a few thousand children in the region, and many of them opt for public school. So the financial aid program support by KF donors is a critical factor in creating a diverse, inclusive community of families. They show their gratitude by continually showing up for volunteer work, cleaning the school every week, and offering goods and services. And they have expressed deep gratitude to KF for supporting the school.
Only a small handful of MWS parents identify as practicing Buddhists, but all have expressed an openness and interest in the dharma. We provide opportunities for them, such as a free dharma library, Tuesday meditation, and New Moon Book Club with Lama Karma Justin Wall, who joined our staff this year. We also have strong connections to the local monasteries, such as Zen Mountain Monastery and KTD, which offer weekend programs for families that are highly attended by MWS community members.
Looking ahead
MWS will have a big year ahead. Thanks to the generosity and trust of Khyentse Foundation and its many supporters, we have recently purchased the property that we've been renting and we plan to build a new set of classrooms. Our goal for this location is to have a nursery to 6th grade school. We are in talks with partners about how we will proceed from there, the intention is to create an education that goes all the way through secondary/high school.
This year we continue to explore the themes of Refuge, Bodhicitta, Lineage, Impermanence, Interconnection, and Harmony. Next year we plan to take a note from the units that the Blue Lion Preschool (see below) is developing and will add the theme of Ritual and Offering. We are enjoying our work developing new celebrations and songs, an original play of the Life of the Buddha, books, teacher resources, and more, all of which will be shared with the public. Our hope is that our units can be adapted, reordered, revised, and customized to suit the needs of other schools. 
Middle Way Education is a separate not for profit organization, also supported by KF, that has created a platform through which MWS will share materials. MWE invites anyone with materials geared toward Buddhist education for children to upload to the MWE website, which is managed by Claire Zimmerman. And we encourage parents and teachers to use the site as a resource. 
Gratitude
None of this would have been possible without the support of Khyentse Foundation, its generous donors, and the guidance of Rinpoche, as well as the hard work of the MWS board of trustees, who have volunteered their time during this entire pressurized launch. Starting a school is a tremendous endeavor like no other in the world. What we have is a delicate, changing ecosystem. To be free of the burden of fundraising in this crucial initial set-up stage allowed our staff and community to burst forth with an almost spontaneous quality. Recently, we have been blessed with a direct donation from our dear friends Twenty and Thirty, as well as additional donations to our new Tuition Assistance Fund Campaign, to support one family who was hit with a crises. Thanks to all who have contributed.
We invite visitors to come experience the school, it's difficult to express how special it is in words. (Please make an appointment before visiting.) Almost everyone who comes to the campus comments on the atmosphere, which is alive with learning and blessings and joy.  
We are in the middle of enrollment season for 2020-2021 and have a busy summer ahead. We must construct a whole new building to accommodate the new students we are anticipating. We are expanding to accept students from nursery up to grade 4 (ages 2 to 10). Although the climate in upstate New York can be challenging, it is also a stunningly beautiful place that enjoys good water, stable ground, no tornados or earthquakes, no tsunamis or droughts. A recent article in a local magazine describes it as an up and coming area to live in, so we encourage sangha families to move here. We believe that the school is worth it. 
Here's what Middle Way parents and teachers say
"My daughter has started meditating on her own at home. She sits for 5-10 minutes with her plushy. It's amazing!" — MWS parent
"The Middle Way School is unlike any school we have ever experienced. The school's vision centers on each child's unique experience, while simultaneously holding the health of the whole community at its core. The educators wonderfully combine and support a sense of curiosity, gratitude, and creative embodiment in our children, that continuously humbles and excites us as parents. The education provided at Middle Way is a truly unique, cultivating a creative and playful lens into the learning of math and science, while also holding an equal appreciation for the natural world through art, music, play, and aikido. As a family, we feel a deep sense of gratitude to be a part of such an incredible and thriving school." —MWS Parents
"It is an honor and a blessing to share a taste of the Sanskrit language with your school children. I feel appreciated and nourished. The sacred space you provide for each of us involved with Middle Way School allows us to have the best experience of the self present in each and every heart." —Tara Federman, Sanskrit Teacher
"My child is thriving. She loves going to school and never wants to miss a day. As far as I can tell learning at school does not feel like a chore to her, she is excited and motivated by what happens in the classroom and often continues classroom explorations at home." — MWS parent
"The teachers were stellar, the consciousness that underlies the decision-making processes when deciding to implement a teaching or activity, the foundational teaching of the sacredness of life." — MWS parent 
"I have been very happy with what my child has taken away from the school—the strategies she's learning to manage her emotions, her relationships with her teachers, and the inquiry-based nature of her learning." — MWS parent
"I love this school. And my daughter has shown a tremendous leap forward in her education and self-esteem." — MWS parent
 Blue Lion Preschool in Singapore
We are excited to announce that preparations are underway to launch 
another KF education initiative, the Blue Lion Preschool in Singapore. Blue Lion Preschool is a pilot preschool whose vision is to awaken the seeds of Buddhist wisdom and values in young children. Again under the guidance of Rinpoche, and with a dharma curriculum developed by Heather Sanche (author of
Life of the Buddha
, see "In Other News") and Rachel Maclaren Mallet, Blue Lion Preschool will be for families with children from 18 months to 6 years of age.
KF also sponsors several other education projects, such as Lhomon Education in Bhutan, the Kanishka school at DKCLI (now with more than 130 students), the Santi Sena initiative in Cambodia, and a major survey of monastic education for children in Nepal.
KF Voices
Sharing the Merit
Letter from a MWS Supporter 
"Our teacher, Dzongsar Jamyang Khyentse Rinpoche, has a vision to fuse basic Buddhist philosophy into modern school education in order to guide children to remain more mind-driven not material-driven, more interconnected and less self-centered people. As such, they will be more content and able to benefit others in the future. The Middle Way School was founded to explore how to realize this vision.
"As adults, and as parents, we have seen how school education can shape people for their whole lives. We are inspired by Rinpoche's grand view and the schools staff's dedication to it. So we have been interested in the Middle Way School ever since it began. Now, as Middle Way is entering the third year, there is more work to do for its development, and we see that it needs and deserves support from beyond Rinpoche and Khyentse Foundation.
"As Buddhists, we believe in the law of causes and conditions, and we believe in the power of aspiration and connection. Although Middle Way School has no intention of pushing students to become Buddhists, we believe it is planting the seeds of dharma and nurturing them in a gentle and subtle way. That is another path of bodhisattva activity. We sincerely wish that whoever has a connection with Middle Way School will benefit and will gradually benefit others."
Love,
Twenty and Thirty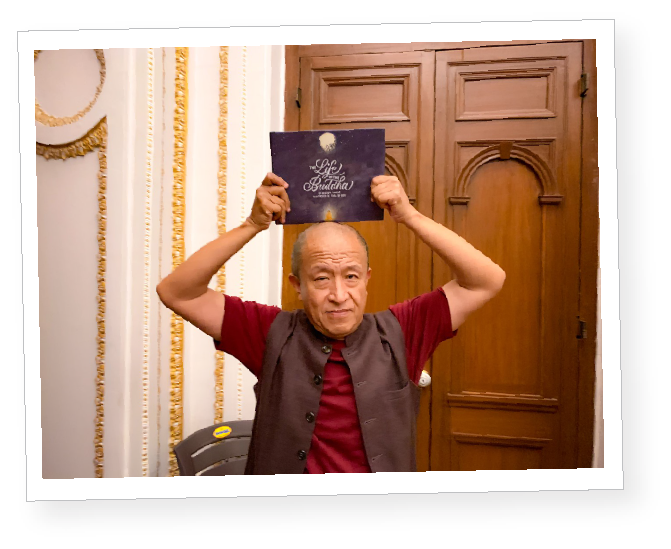 Life of the Buddha will be published on
April 28 by Shambhala Publications
Dzongsar Khyentse Rinpoche commented, "We have far too few Buddhist books for children. In that regard, the negligence of Buddhist teachers like myself is utterly embarrassing. So this beautiful children's book on the life of the Buddha by Heather Sanche and Tara Di Gesu is very welcome indeed." Preorder your copy now.