FOCUS 
October 2020
Following in Kumarajiva's Footsteps
The Kumarajiva Project in its second year
Chinese civilization is very, very important for the survival of Buddhism.
– Dzongsar Khyentse Rinpoche
In July 2019, Khyentse Foundation launched the Kumarajiva Project, an unprecedented translation effort dedicated to translating into Chinese all Buddhist canonical texts that are not already available in Chinese. Dzongsar Khyentse Rinpoche named this project after Kumarajiva, a scholar revered in Asia as one of the greatest translators and propagators of Buddhist scriptures in China. 
The first Chinese Translation of Seven Tibetan Texts
Since last July, the Kumarajiva Project has completed the translation into Chinese of seven texts in the Tibetan canon. The first translation, "The Sūtra of the Questions of Brahmā," was released online in January 2020. Since then, five more sutras and one shastra have been translated — the first time that these sutras have ever been translated from Tibetan into Chinese. The following list is arranged according to the catalogue number of the Derge edition of the Tibetan Canon, Tohoku Catalogue number (Toh).
Toh 23 The Perfection of Wisdom Mother in One Syllable

Toh 26 The Perfection of Wisdom for Sūryagarbha

Toh 27 The Perfection of Wisdom for Candragarbha

Toh 158 The Sūtra of the Questions of Brahmā
Toh 328 The Sūtra of Nanda's Ordination
Toh 346 The Account of the Noble Deeds of Sumāgadhā

Toh 4005 The Bodhisattva's Confession of Ethical Downfalls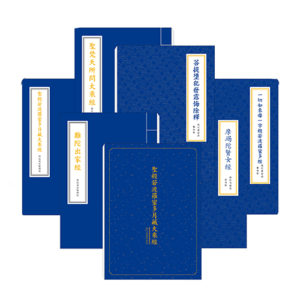 The first three sutras are included in the Prajñāpāramitā (Perfection of Wisdom) texts of the Kangyur (translated words, or buddhavacana).  The final two are in the section of General Sūtras. The sutras describe how Bodhisattvas attain Buddhahood instantly by practicing just one method, how to practice skillful means (upāya), and how to achieve Prajñāpāramitā by means of chanting one syllable. 
The shastra, "The Bodhisattva's Confession of Ethical Downfalls," translated by senior translator Sherab Chen, is usually attributed to Nāgārjuna, the great Indian Madhyamaka philosopher. Originally translated from Sanskrit into Tibetan by the Indian Khenpo Śāntarakṣita and other Tibetan translators, the shastra is a commentary on "The Stack of Jewels Sūtra: Questions of the Arhat Upāli." This shastra explains with remarkable clarity the forms, the pure lands, the connotations of the names, and the doctrines of the thirty-five Buddhas. Another text connected to "Questions of the Arhat Upāli," known as "The Confession of Downfalls to the Thirty-Five Buddhas," is well-known and revered in both Chinese and Tibetan Buddhist communities. It has been said that becoming familiar with "The Bodhisattva's Confession of Ethical Downfalls" can contribute to a deeper and more profound understanding of the popular "The Confession of Downfalls to the Thirty-Five Buddhas." Having commentarial texts such as "The Bodhisattva's Confession of Ethical Downfalls" has the potential to play a significant role in the interchange between Chinese and Tibetan Buddhism in discussions of philosophy and practice. 
To download the seven newly translated texts, visit the Kumarajiva Project website. 
The translation of another thirteen sūtras and shastras has been completed, and they are now in the review and editing process. In addition, the following translations are in progress.
Toh 144 The Sūtra on Cultivating Faith in the Mahāyāna
Toh 3790  The Transcendent Perfection of Wisdom in Twenty-Five Thousand Lines
Toh 3866 Treatise on the Five Skandhas
Toh 4085 Quintessential Instructions on the "Ornament of Madhyamaka"
We welcome qualified translators to join our translators' team. The translation grant under the Kumarajiva Project is open for applications all year round. Click here to download the application form. 
Watch Rinpoche introduce the first published translation
A Modern Translation Assembly
Following the tradition of the Buddhist translation assembly in the Tang and Sung dynasties, the Kumarajiva Project has gathered Tibetan teachers, senior translators, Chinese language specialists, and digital experts. Together we are working in an online virtual assembly, progressing toward our translation goals. 
We are especially grateful to Dr. Chin-sung Hsaio, Dr. Ben-sheng Liao, Dr. You-Xin Chen, Dr. Yi-Yan Huang, Dr. Fu-Cheng Zhang, Dr. Min Ding, Dr. Yao-ming Tsai, and Geshe Tenzin Namdrol, who have provided professional guidance and help during the pilot phase of the project. Thanks to their invaluable assistance, the Kumarajiva Project now has a solid foundation on which to grow.
Five distinguished scholars joined our Editorial Committee this year. They are Dr. King Chung Lo (Tibetan-Chinese Buddhist scholar), Dr. Kuo-wei Liu (Buddhist philologist),  Prof Sherab Chen (senior translator), Dr. Yuan-Ching Hsu (Tibetology scholar), and Dr. Kun-cheng Chang (senior translator). 
Dr. King Chung Lo from Hong Kong has trained in both traditional Tibetan Buddhist settings and modern academic institutions for the past two decades. He specializes in Buddhist logic (Hetuvidyā, yin-ming), and has extensive experience in the translation and philology of Sanskrit and Tibetan Buddhist texts.

 
Dr. Kuo-wei Liu has taught and served as the dean

of the Department of Buddhist Studies of Fo Guang University. Dr. Liu, who now works as a research fellow and head of the Division of Rare Books, Archives and Documents in the National Palace Museum, specializes in late Mahayana Buddhism in India, Sanskrit-Tibetan Buddhist philology, and Tibetan Buddhist culture.

 
Prof. Sherab Chen has studied Buddhism in India and the United States, and is one of the chief translators of the new Chinese translation of "

Lamrim Chenmo (

The Great Treatise On The Stages Of The Path To Enlightenment)." He promotes collaboration in building a shared terminology database for Tibetan-Chinese Buddhist translation projects.

 
Prof .Yuan-Ching Hsu teaches at Sichuan University, specializing in Tibetan Buddhist history, philosophy, and Tibetan-Chinese translation. He is particularly experienced in integrating translation theory and practice.

 
Dr. Kun-cheng Chang is trained in ethnology and specializes in Tibetan religions and culture.

Having studied the oral and written techniques for the translation of liturgical texts and Mahayana and Vajrayana

sutras

and shastras for more than a decade, Dr. Chang is well known for his clear and elegant translation style.

 
The Editorial Committee gives advice and guidance on every translation project, from selecting qualified grant applicants to the rigorous process of editorial review to approval of the final translation. 
Rinpoche giving a talk to the translation and editorial teams in a workshop in Taipei, Oct 2020

We also have a team of eight Chinese language specialists who check every word of the translated sutras, including punctuation and rhythm. Their tireless and meticulous efforts greatly enhance the quality of translation. 
To meet the needs of different readers, we are pleased to offer two versions of each Chinese translation of the sūtras, one in a modern Chinese style and the other that emulates the traditional Buddhist scriptural style. The modern version is available in both traditional and simplified Chinese; the traditional scriptural style is offered in traditional Chinese only. We also provide a Tibetan and Chinese aligned version. So there are four versions for each text which means a lot of extra work for the whole team.
We are also very grateful to Khenpo Choying Dorjee, the former abbot of Dzongsar Khyentse Chökyi Lodrö Institute (DKCLI) in northern India, who, following the tradition of expounding sūtras, has been giving teachings on the meaning of the sutras based on his understanding of them according to the original Tibetan text. Khenpo's expertise in both English and Tibetan media is immensely beneficial for both the translation and editorial teams.   
Khenpo expounding on the sutras

A Portal to Access Chinese Translations of Buddhist Texts
In addition to archiving the Buddhist texts translated under the patronage of the Kumarajiva Project on our website, we plan to collect and archive various modern and traditional editions of Chinese-translated Buddhist texts and relevant research works produced by other institutions and individuals. Our intention is to build a portal of modern Chinese translations from the Buddhist canon, including existing and future Chinese translations from the Sanskrit, Pali, and Tibetan canons. For example, Candrakīrti's  Prasannapadā (Clear Words), a 27-chapter shastra, has existing manuscripts from both the Sanskrit and Tibetan collections. To date scholars have conducted translation and research on a single or several chapters, but the complete text has never been translated. The Kumarajiva Project aims to collect and consolidate all of the existing Chinese translations, annotations, and studies on individual chapters on a single platform. We hope that doing so will benefit general readers as well as Buddhist practitioners and scholars.
an adaptive user interface, the Chinese Tipitaka provides full-text retrieval and can be read on computers, tablets, and smartphones. We are working with Benjushi to include the newly translated texts of  the Kumarajiva Project in this user-friendly and easy-to-access website and database. We are also exploring the possibility of providing other digital reading formats on our website, in addition to PDF, such as ePub and other e-book formats.
Another important work the Kumarajiva Project has commissioned and recently completed is the retranslation into Chinese of the titles of 4,569 sutras and shastras, which are recorded in the widely used "General Catalogue of Tibetan Buddhist Canon, Derge edition", (known as  the Tohoku Catalogue, because it is housed at Tohoku University, Japan). 
The Chinese titles in the Tohoku Catalogue are in Japanese kanji (a form of Chinese characters used in Japanese language), which has some discrepancies with the Chinese characters used in China. At the invitation of the Kumarajiva Project, Dr. Dammapāla (Dr. Qingchong Zeng) retranslated these titles into Chinese from the original Sanskrit and Tibetan texts, providing a catalogue in "proper" Chinese. This catologue meets the needs of Chinese readers and provides an easier-to-access and understand reference for Chinese translators and researchers.
Dr. Dammapāla has studied and practiced Mahāyāna and Vajrayāna Buddhism for many years, specializing in the translation of Tibetan texts into Chinese. Readers have long admired his classical and elegant style of translation. Recently he began a series of lectures on the theory and practice of translating Buddhist texts, which attracted many aspiring tranlsators and Buddhist students. For more information, visit our website. 
Dr. Dhammapala lecturing in Taipei

Training Young Translators
The shortage of qualified translators continues to be a challenge to our efforts, and it will take generations to complete the Kumarajiva Project. Therefore we have taken on the mission of training the translators ourselves.  
Khyentse Foundation has been cooperating with Dharma Drum Institute of Liberal Arts (since 2014) and Fa-Kuang Institute of Buddhist Studies (since 2015) in training prospective translators. We are happy to report that after five years, one trainee has recently joined the Kumarajiva Project and has started translation work under the supervision and guidance of our project consultants and senior translators.
Translator training class in Taipei with Prof. Ben-Sheng Liao

In 2018, with the assistance of the Esukhia Educational Institute, Khyentse Foundation launched an intensive online course to train prospective translators to improve their Tibetan language proficiency and knowledge of Buddhism. Six junior translators initially joined the training. The rigorous program requires completing hours of online assignments before and after each lesson, attending in-person tutorials twice a week, and regular assessments of translation samples. It requires a full-time commitment from both teachers and trainees. Three promising trainees are continuing with the course.
Intensive training has proven to be very effective in helping prospective translators lay the foundation for future translation work. We are confident that a few new translators will be ready to join the Kumarajiva Project translation team after they finish the course in a few years.
This online course is also offered free to the public as a course for self-study. More than 250 students have registered in the past two years for courses that range from beginner to advanced studies of Tibetan Buddhist texts.
The Life and Legacy of Kumarajiva
Kumarajiva statue in his birthplace, 
Kucha, 
in Xinjiang, China (Photo by Pawo Choyning Dorji)
To view the full series of images from historical Buddhist sites, 

click here

 

(Photos by Pawo Choyning Dorji,

 from his journey to Xinjiang and Gansu provinces in China in 2014)

 
Accounts of the life and works of Kumarajiva range from medieval biographies to modern scholarship. What follows is a summary of the life and legacy of the man whose life's ambition was to share and advance the knowledge and understanding of Buddha's teachings throughout East Asia. 
Kumarajiva lived a mythic life full of intrigue, triumph, and seemingly superhuman talents. His odyssey inspires the Kumarajiva Project in numerous ways. For one, Kumarajiva represents the strengths of Buddhism's diversity of schools and regional traditions, his own training having been enriched by studying different vehicles of Buddhism. Kumarajiva is said to have revitalized Chinese Buddhism precisely because he applied his incredible linguistic abilities to multiple sutra traditions. 
Second, Kumarajiva had an uncanny ability to inspire a broad readership, by translating Buddhist texts into simple layman's language, thereby transforming East Asian culture. He can be considered the most influential of all classical Chinese translators, largely because people from all walks of life found that his distinctive easy style—more than the style of other translators—helped them understand and contemplate the dharma.  Similarly, the Kumarajiva Project aspires to produce translations in both the traditional sutra style and a contemporary style that resonates with readers today. 
Finally, the Kumarajiva story speaks to the need for generous patronage to accomplish great aims that have an impact for centuries.
Kumarajiva's deep passion for the Madhyamaka, his extraordinary ability to create polished and concise Chinese translations of the sūtras and Indian commentaries, and the depth of his understanding had a profound effect on the direction of Chinese Buddhism and culture. He serves as an inspiration to all those who support the endeavor to make the Buddha's teachings ever more widely available to the modern world. 
The Kumarajiva Project is named in honour of this exceedingly talented, tenacious, and devout religious figure. We hope that in translating into Chinese the Buddhist texts that are not yet available, we will create a fuller, more comprehensive collection of the Buddha's teachings in the language of the region that is largely responsible for the survival of Buddhism. 
How to Support
We greatly appreciate your support of this important translation project, and we invite you to make a donation and spread the word. May we all accumulate merit by supporting the preservation and translation of Buddha's words for the benefit of generations to come. As Dzongsar Khyentse Rinpoche has said, "Every single word spoken by the Buddha is excellent and precious."
Sharing the Merit
– Message from Michael and Maria Fritzsche –
I had to look into my old documents and found Dzongsar Khyentse Rinpoche's letter from Winter 2001/02 in which he invited me to join him in supporting the dharma. We were fascinated by the work the Khyentse Foundation was doing for him, especially in facilitating his teachings and at this time supporting translators in translating the words of the Buddha. And Maria, who comes from a family in which the words of the Buddha were revered very much, was also very impressed by this.
I contributed my first donation in June 2002. Three years before I had met Rinpoche in Kassel for the first time, and Maria met him some time later too. Both of us became his students. And our veneration for Rinpoche as our guru and our admiration for his visions, which have been realized effectively through Khyentse Foundation and since 2009 through 84000, has not changed since then.
A short time ago we read that Khyentse Foundation launched The Kumarajiva Project. It seems to us a far-reaching idea because Buddhist thoughts are brought back into a society where Buddhishm was prominant in the past. It will benefit the Chinese speaking people now.
We hope that this will inspire more people to support Rinpoche's vision.
Best wishes,