KF
Special
Feature
October 2022
Digital Dharma:
R
ecovering
W
isdom
—
Remembering 
Gene Smith
"It's hard to express or even fathom Gene's direct and indirect contribution to Tibetan Buddhism through the preservation and publication of so many of these rare texts. At a personal level, I must add that many of my current endeavors in Khyentse Foundation and 84000 owe so much to Gene for his guidance and inspiration.We cannot forget Gene Smith!"

 

— From Dzongsar Khyentse Rinpoche's preface to Digital Dharma: Recovering Wisdom. Above: Gene Smith, from the book Digital Dharma: Recovering Wisdom.
Gene Smith, from the book Digital Dharma: Recovering Wisdom.
We are delighted to announce the publication of a book of photographs, Digital Dharma: Recovering Wisdom, the culmination of a project that our friends at the Buddhist Digital Resource Center (BDRC) have been working on for the past 2 years. Gene Smith (1936–2010) was the mastermind behind BDRC, a collaborative endeavor to save, digitize, and offer free access to the Buddhist canon. Digital Dharma: Recovering Wisdom provides intimate glimpses into Gene's pioneering mission. This article is contributed by Jann Ronis, the executive director of BDRC.
Digital Dharma: Recovering Wisdom, by Dafna Zahavi Yachin and Arthur M. Fischman in collaboration with BDRC (Wisdom Publications, 2022), is a new photography collection celebrating BDRC's visionary founder Gene Smith and his lifelong mission to preserve Buddhism. Order the book. 
The Team and How It Began
In early February 2020, under the cloud of the looming Covid pandemic, a plan was hatched to commemorate the legendary scholar and preservationist of Buddhist literature, Gene Smith. Around Patricia Gruber's kitchen table in New York City, Dafna Yachin, Patricia, and I decided to produce a book of photographs in celebration of Gene's life and legacy.
As the world went into lockdown, the Digital Dharma team met on Zoom to brainstorm what would become Digital Dharma: Recovering Wisdom. The book chronicles Gene on two of his last journeys to monasteries and temples in India and Nepal and captures his encounters with lamas, publishers, scholars, and monks as he carried out his objective to preserve and share Buddhist texts.   
Left to right: Members of the Digital Dharma team—Jann Ronis, Dafna Yachin, and Patricia Gruber, with BDRC's communications officer Tenzin Dickie.
All three founding members of the team had known Gene personally. Patricia had known him the longest, having worked closely with him during the formative years of his organization (formerly Tibetan Buddhist Resource Center, now Buddhist Digital Resource Center). The evolution from a grand but limited project to a sustainable organization produced resources that are indispensable to Buddhist studies.
Dafna, the director who captured Gene so memorably in her 2012 documentary Digital Dharma: One Man's Mission to Save a Culture, knew that Gene's life and body of work were just too big for a single 90-minute documentary. She had traveled with him and seen him (and recorded him) in his element, having in-depth discussions about Buddhist texts with lineage holders from all schools of Tibetan Buddhism.   
As a junior scholar, I had spent a year cataloging and doing research for Gene. For both Dafna and myself, Gene was not only a great scholar but our teacher and mentor. The team was joined by Dafna's frequent collaborator Arthur M. Fischman, a writer and jazz pianist, and Tenzin Dickie, BDRC's communications officer and a writer and translator.
Gene the Pious Pandita
The journey documented in this book is a pilgrimage. Devotion to the dharma and to the lamas was the engine of Gene's epic lifetime spent preserving and sharing the dharma. 
Gene's first encounter with Buddhism occurred in the early 1960s in Seattle in the United States, when he had the good fortune to study Tibetan under the Sakya master Dezhung Rinpoche, who became his root guru. Dezhung Rinpoche was born in 1906 in eastern Tibet and was raised by his uncle, Ngawang Nyima, a renowned meditation master who studied directly under many of the great 19th century masters, including Jamyang Khyentse Wangpo, the progenitor of the Khyentse lineage. 
Under Dezhung Rinpoche's guidance, in 1964 Gene made his first trip to Asia to study with lamas from all the major schools and to assess the state of the endangered books brought out of Tibet by the refugees. Dezhung Rinpoche provided Gene letters of introduction to leading lamas, from whom he learned the eight practice lineages prized in Khyentse Wangpo's Rimé movement. Because Gene was still working toward a doctorate at the University of Washington, the trip was supposed to be brief. 
A young Gene Smith with HH Jigdal Sakya Dagchen Rinpoche and Trinlay Rinpoche in Seattle, 1960. Photo courtesy Sakya Monastery of Seattle, WA.
In essence, though, this trip lasted Gene's whole life. Obviously brilliant and with an unparalleled education in Buddhist studies, Gene was destined for a coveted job in the ivory tower of elite academia. But rather than use his education and privilege for self-gain, he abandoned his academic studies and devoted himself to working with Tibetan lamas to collect, safeguard, reprint, and distribute the books the Tibetan refugees had taken to India and Nepal. A scholar by nature, for 50 years Gene never stopped reading and writing about Tibetan culture. But at heart he was a follower of Buddhism, and from the outset his aim was to serve the Buddhist tradition. 
This book is a visual testament to Gene's generosity, and to his success. The photographs show Gene on two of his last visits to Asia, where he hand-delivered digital collections of Buddhist texts to lineage holders and leaders in the Tibetan community. The main chapters focus on individual monasteries and libraries and their respective lamas, such as Sakya College in Dehradun and its spiritual head, HH Sakya Trizin Rinpoche; Ka-Nying Shedrub Ling in Kathmandu and its abbot, Chökyi Nyima Rinpoche; and Songtsen Library in Dehradun and its founder, HH Drikung Kyabgön Chetsang Rinpoche. Gene was warmly welcomed at these sacred sites and others, and his gifts of the dharma were received with appreciation. Many of these lamas were Gene's old friends and collaborators, and their mutual affection is captured in the book. 
Some photographs from the book
Monks performing a ceremony at Shechen Monastery in Kathmandu, Nepal.
Monks of Menri Monastery in Dolanji, Himachal Pradesh, India.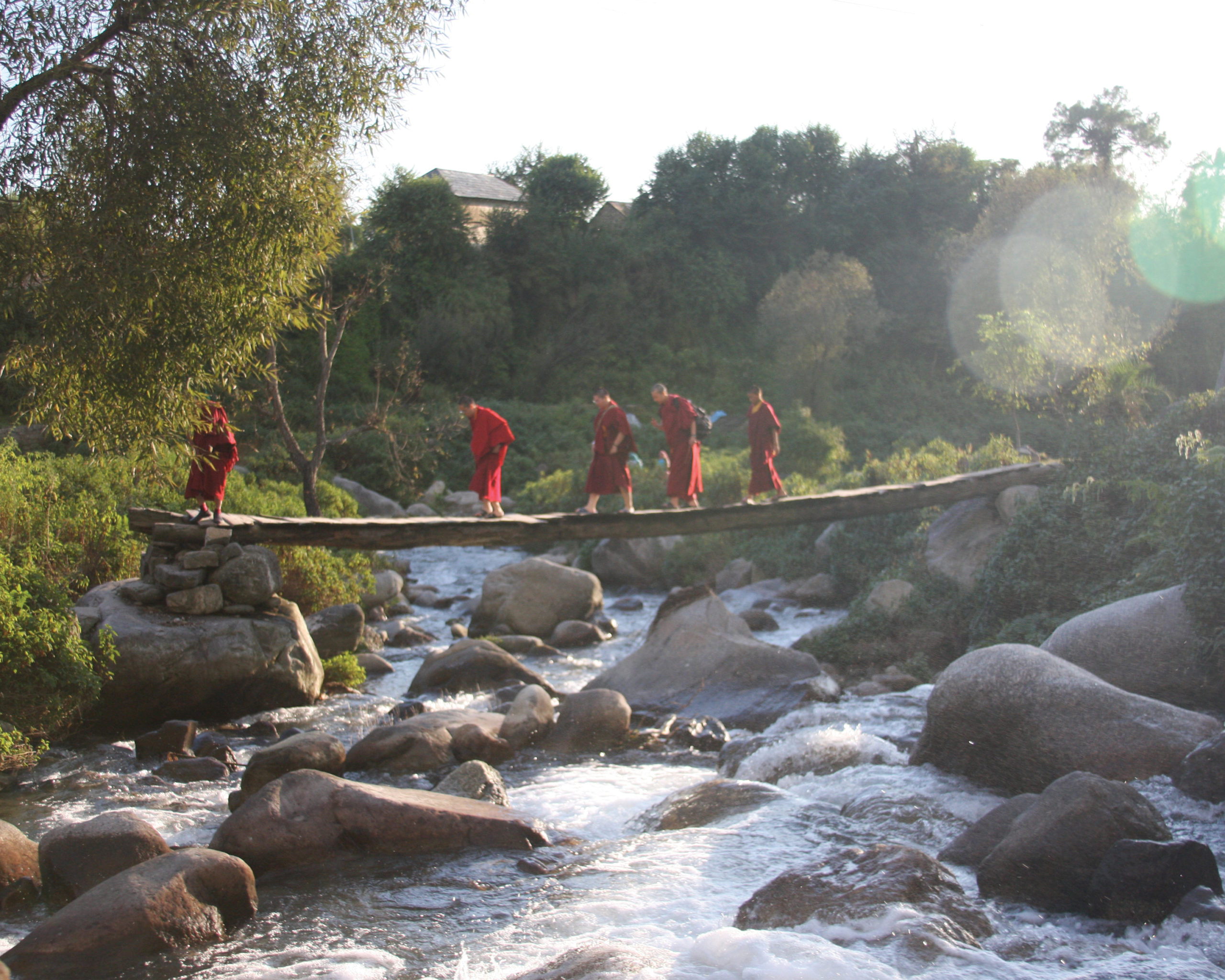 Monks of Menri Monastery walking across a wooden bridge over a river fed by Himalayan snowmelt.
Gene Smith offered Chökyi Nyima Rinpoche a hard drive containing the Buddhist canon and Rinpoche touched it to his head as if it were a printed scripture or Buddha statue.
Gene and Matthieu Ricard at Shechen Monastery's text input center.
The volume also contains lavish photos of rituals, monastic debates, pious laypeople, and everyday life in South Asia—images that bear witness to the high lamas' and Gene's success in preserving Tibetan culture.
Gene and the Two Khyentse Rinpoches; TBRC/BDRC and Khyentse Foundation
Dzongsar Khyentse Rinpoche with a bust of Gene Smith at the Gene Smith Library in Chengdu, China, 2015. Photo courtesy Kris Yao.
The relationships between Gene and Dzongsar Khyentse Rinpoche and between TBRC/BDRC and Khyentse Foundation (KF) are among the greatest multi-generational—even multi-lifetime—partnerships in modern Tibetan Buddhism. Gene moved to India permanently in 1965, working at the New Delhi office of the Library of Congress. He kept a large house with a full staff so that he could host lamas and scholars who passed through the Indian capital. According to Gene's devoted assistant Mangaram Khashyap, HH Dilgo Khyentse Rinpoche was the most revered guest of all. Whenever HH and his large entourage passed through Delhi, Gene turned the entire house over to him. Gene stayed at a hotel during these visits, returning every day for long conversations with Dilgo Khyentse Rinpoche about Rinpoche's prodigious efforts to collect, edit, and reprint hundreds of volumes of Buddhist texts. 
HH Dilgo Khyentse Rinpoche and his entourage at Gene's home in Delhi, circa 1975. Photo courtesy Matthieu Ricard. Top two rows, from left: Lama Ngodrup, an unknown monk, Tulku Pema Wangyal Rinpoche, Shechen Rabjam Rinpoche, Khenpo Jigme Tsultrim, Dilgo Khyentse Rinpoche (seated), Gene, HH Jigdal Sakya Dagchen Rinpoche, and Khandro Lhamo. Front row: Helena Blankleder, Jill Heald, and Matthieu Ricard. 
Because Dzongsar Khyentse Rinpoche was often in Dilgo Khyentse Rinpoche's charge in those days, he stayed at Gene's house on many occasions. Rinpoche was not the only precocious young tulku to visit Gene's house, but the two formed a unique and lifelong bond. As Rinpoche grew up and became more cosmopolitan, Gene played a significant role in exposing him to ideas and cultural knowledge not available in the monastic system. Gene even assisted Rinpoche in sneaking out to go to movie theaters in New Delhi.
Left to right: Jacob Dalton, Steven Goodman, and Gene Smith in New Delhi on the way to the Translating the Words of the Buddha conference in Bir, northern India, in 2009. Photo courtesy David Kittelstrom.
Left to right: Robert Thurman, Gene Smith, and Khenpo Choying Dorjee at the Translating the Words of the Buddha conference, 2009. Photo courtesy David Kittelstrom.
Their connection was primarily dharmic, however, especially in the last decade of Gene's life. Gene founded TBRC in September 1999, and Dzongsar Khyentse Rinpoche and his closest disciples established Khyentse Foundation just 2 years later, in 2001. Inspired by Gene's work, Rinpoche and the other KF leadership swiftly awarded a grant to TBRC—one of KF's first. KF Executive Director Cangioli Che joined BDRC's board of directors a couple of years later, staying on for over 10 years and providing pivotal guidance. Cangioli was the mastermind behind TBRC's 2015 embrace of an expanded mission and the related name change to Buddhist Digital Resource Center in 2016. 
Another consequential meeting between Gene, Rinpoche, and KF was the historic 2009 conference in Bir, northern India, from which the idea, collaboration, and support for 84000: Translating the Words of the Buddha emerged. Rinpoche has said that it was Gene's urging that prompted him to convene the conference. Some two decades later our deep affinity is as strong as ever, both KF and BDRC remaining true to their harmonious founding visions. 
An Exclusive Interview Screening
In December 2022, BDRC will host a special screening for the Khyentse community of a newly released 2009 interview with Dzongsar Khyentse Rinpoche by Dafna Yachin. As mentioned above, before Gene died Dafna began filming a feature-length documentary about him, which was released in 2012 under the title "Digital Dharma: One Man's Mission to Save a Culture." While making the film Dafna interviewed many high lamas, and one of her most memorable conversations was with Dzongsar Khyentse Rinpoche. The interview lasted more than 60 minutes, and BDRC has obtained a 30-minute cut. The film will offer the Khyentse community a chance to learn from Rinpoche himself about one of his heroes. Further details will be released soon.
Related reading from Khyentse Foundation:
From TBRC to BDRC: A Brand New Buddhist Digital Library for All, June 2020
Expanding Beyond Tibetan Texts, April 2019
Expands Mission and Impact: Announcing the Buddhist Digital Resource Center, May 2017